Traveling Exhibits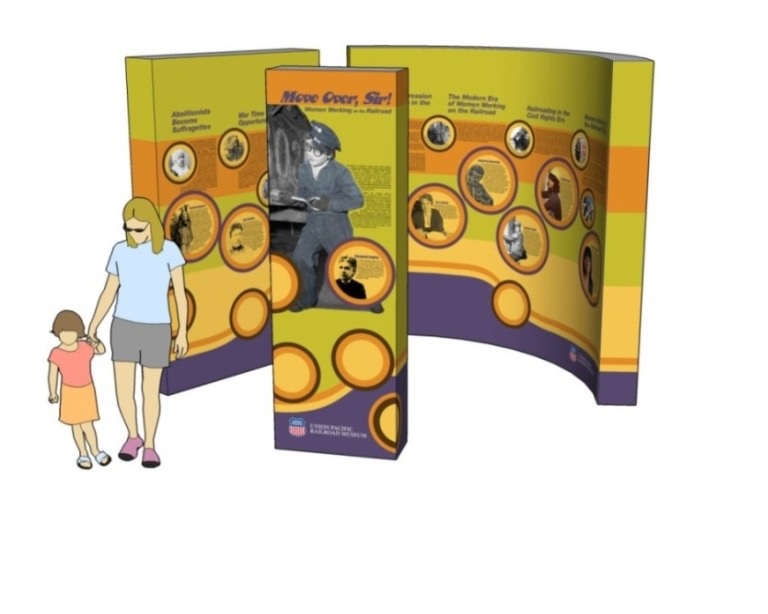 Scale rendering of the "Move Over, Sir!" exhibit.
Bring railroad history to your town.
The Union Pacific Museum offers travelling exhibits on a variety of topics that highlight the railroad's distinctive history.
This travelling exhibit program is tailored to the needs of small towns and institutions, schools, courthouses, senior centers and libraries. Each exhibit is a colorful and beautifully rendered slice of railroad history.
Exhibits are stand-alone collapsible informational panels - 10 foot curved walls and 3X8 pillars. Panels are easy to assemble and come with a variety of materials that will help you to promote and interpret the exhibit, including a sample press release and power point presentation. Artifacts are not included with the panels.
The exhibits cost $20 per day, minimum 10 day rental, plus shipping and handling.
Download traveling exhibit FAQ
Please email Patricia or fill out the form below if you have questions or would like to book your exhibit.
Currently Available Exhibits
Using the vivid and rich imagery of Decades of Union Pacific photography and parks-centric marketing materials, this unique exhibit traces the unusual partnership between the National Park Service and Union Pacific.
Tracing the contributions that women have made to the railroad industry over the past 150 years, this exhibit calls out specific women and their unique contributions to the industry.
American history frequently focuses on themes like Westward Expansion and the construction of the Transcontinental railroad, this exhibit focuses on the often untold stories of the builders of both the Union Pacific and Central Pacific lines showing the race to Promontory in a rare new light.
The railroad and the military have been connected since the early days of railroading; from the Civil War to both World Wars, Union Pacific has been an integral part of national defense. Wheels of War highlights the military's need for a consistently dependable and fast railroad, and the steps the railroad took to meet that demand.