Traveling Exhibits
Bring railroad history to your town!
The Union Pacific Museum offers travelling exhibits on a variety of topics that highlight the railroad's unique history.
Often, only large museums can qualify for, and afford, travelling exhibits. The UP Museum's travelling exhibit program is tailored to small towns and institutions that would not otherwise be able to host visiting exhibits. Schools, courthouses, senior centers and libraries can all benefit from this unique program.
Each exhibit is a colorful and beautifully rendered slice of railroad history. They are easy to assemble and come with a variety of materials that will help you to promote and interpret the exhibit, including a sample press release and power point presentation.
The exhibits are affordable, at just $20 per day, minimum 10 day rental.
Please email the Curator to book your exhibit!
New exhibits are unveiled every year, so check back frequently!
Currently Available Exhibits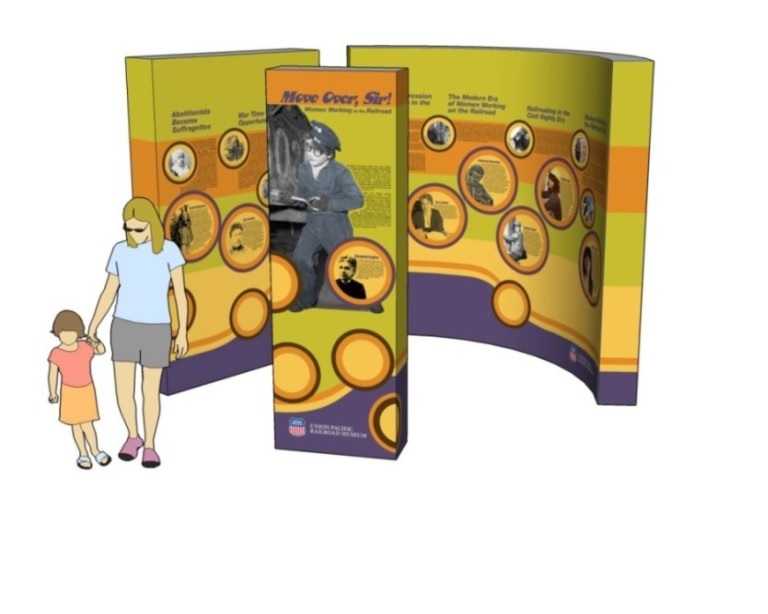 Using the vivid and rich imagery of Decades of Union Pacific photography and parks-centric marketing materials, this unique exhibit traces the unusual partnership between the National Park Service and Union Pacific.
Tracing the contributions that women have made to the railroad industry over the past 150 years, this exhibit calls out specific women and their unique contributions to the industry.