New Year Fun and Fitness Jumpstart at the Union Pacific Museum!
Welcome to the New Year! Our latest exhibit, Working on the Railroad, opened in December 2017, and all of us at the Union Pacific Railroad Museum are excited to continue learning about our new displays and gadgets. Since our curators carefully designed our exhibit to interact with our guests and because many of us have made resolutions for a healthier New Year, we have devised a little boot camp introduction for our team and guests so that they can learn more and get fit at the same time!
New Year Fun and Fitness Jumpstart at the Union Pacific Railroad Museum:
Start by warming up with a couple of laps around the first floor. Not only will you limber up, but you will find a starting point for your appreciation of technological advancements from the beginning of the Transcontinental Railroad until today.
Skip the elevator and take the stairs up to the second floor. Wave hello to each of the portraits on the wall and keep up the pace.
As you reach the 2nd floor landing, head right into Working on the Railroad. Stop, and while you catch your breath, look up at our new O Gauge train suspended from the ceiling. If you don't see it immediately, take a few deep breaths and it will chug by shortly.
If you think our routine has been a little soft, I dare you to walk over to the "Build the Track" section and lift a section of rail. Lifting 23 pounds might seem easy once, but can you repeat 5 times in a row?
With your muscles engaged, you are ready to get your heart pumping. Step over to our touch table and fit in a little cardio with our new game matching rail cars with cargo. You only get 60 seconds and it speeds up as time depletes. How many cars can you fill in 60 seconds? The current top score is 7 times faster than our visitor average. We are looking for a new champion!
By now you may be running out of steam, but we don't need steam for our very own train simulator. Upgraded with a horn you can sound, the simulator combines the scenic routes we used to enjoy with the latest train safety information, or PTC.
Watching the scenery roll by from a train might seem as close to gliding over the earth as you can get without flying, but now UP is truly looking towards the skies. Let's do a little stretching over in the "Dispatch the Train" section, glance up and stretch your fingertips towards the ceiling where we have a drone; make sure you really stretch it out. Now smile at the drone because you are on camera. In fact, you look a little silly standing there with your hands in the air, so you can release your arms back to your sides.
Before you leave the room, take a few minutes to read about how the UP is using modern technology to improve operations and safety. Speaking of improvements, you have nailed your first workout with us. Take the stairs down, gravity will do most of the work, and stop by the gift shop. We still have plenty of new UP calendars for sale.
Way to go! We hope our Fun and Fitness Jumpstart inspired and strengthened you by sating your curiosity and moving your body. We find that the museum is a wonderful place to meet a friend or escape the winter cold. You are welcome here any time we are open, so please stop by and see us again.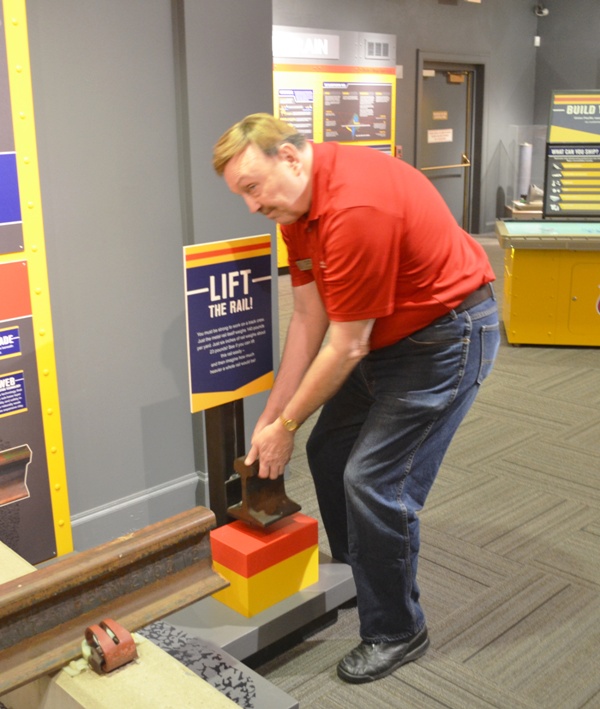 Back to Top
View More Stories