Top 5 Reasons to Volunteer
My top 5 favorite moments from volunteering at the museum:
Volunteering at the Union Pacific Museum showers me with precious memories, some are very specific and others reoccur frequently. Here are a few of my favorite moments from my time at the museum.
1. My most memorable moment happened my first Christmas. I had been asked to assist with decorating the first floor, but given specific directions about which areas to decorate. When I thought I was done, another more seasoned volunteer asked me why I hadn't decorated the tree in the Lincoln Room; that room wasn't on my list. She poked and prodded me until I followed her behind the ropes toward the tree. We happily spent the next hour decorating before our coordinator busted us. Yes, even volunteers need permission to go past the ropes. While we didn't get into serious trouble, we like to joke about the day we went rogue at the museum.
2. I work with a committed group of volunteers and staff who rarely miss a beat. Each week as we turnover our shifts, there are a few moments when we are all together sharing interesting stories from our guest encounters and catching up on each other's lives. The comradery we share in those moments makes me anxious to return the next week. These individuals gladly give of their time, constantly learn more about railroad history for our guests' sakes, and they let me hang out with them for a few hours each week!
3. I had only been volunteering for a few weeks when I had the opportunity to give my first informal tour to 12 third graders. After reading their "thank you" notes, I realized I may have left out some key information about our train museum, since each kid told me how much they enjoyed seeing our guns and TNT.
4. It does not cost to visit the UPRR Museum; however, we accept donations in a box in the lobby. Our visitors are incredibly generous, leaving contributions, but there is something magical when I see parents and grandparents teach their kids about why they donate. I often hear comments such as, "We give so that the museum will be here for years to come" or "We give because we enjoyed our experience." Overhearing these interactions encourages me as a volunteer because I know I am a part of something special with forward momentum.
5. From family legacies to cartoon trains, everyone has a different reason for stopping by the UPRR Museum. I love meeting people from all over the United States , but I especially enjoy visiting with individuals from other countries. I have spoken with people from Japan, Africa, Spain, Canada, France, Australia, and more! People from all over the world love our museum and we love meeting people from all over the world!
Volunteering at the UPRR Museum has given me backstage access to rich history, a great band of friends, opportunities to meet people from all over the world, and sometimes leads to harmless mischief. If you are looking for any of those things, I urge you to join our team!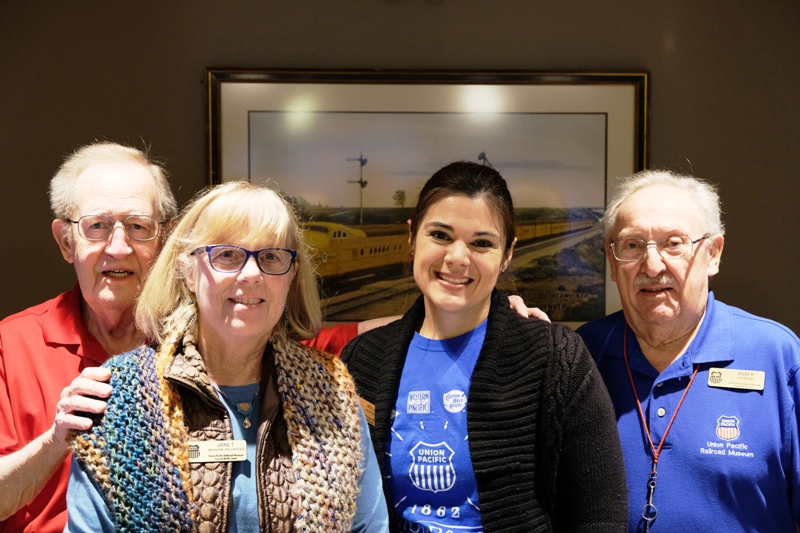 Back to Top
View More Stories