Railroads in Native America: A Biannual Exploration of the Impact of Railroads in Indigenous Communities
May 19-21, 2022 Railroads in Native America Gathering, Ogden UT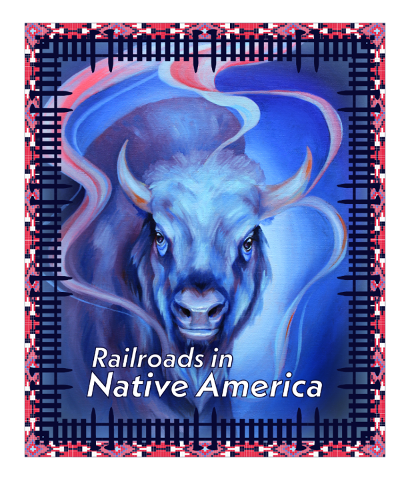 View Larger
The 2022 Railroads in Native America Gathering and Symposium will be held on May 19-21, 2022 in Ogden, Utah at the Ogden Union Station. Utah's official statewide railroad museum is located at the top of Ogden's 25th Street Historic District.
This gathering will include a half day field trip on May 19th 2022 and opening reception that same evening. The gathering will be on May 20th and only a half day on May 21st at the Ogden Union Station Depot.
The Friday and Saturday Gathering is free of charge. The Thursday field-trip is $75 and covers transportation, food and guide honorariums.
This gathering is a mask friendly event and ask everyone to be sensitive to our guests and speakers.
Registration will cover both online and in person participation. Visit the official 2022 Railroads in Native America Gathering site to register.
September 12-15, 2019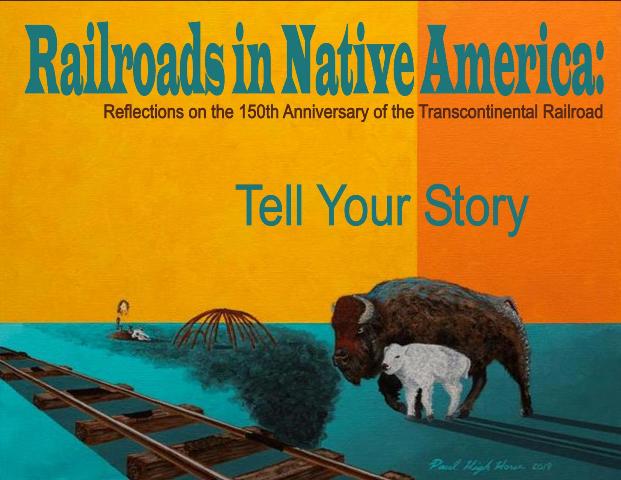 Railroads in Native America is a three-day symposium bringing together scholars, artists, musicians, tribal members and representatives from tribal governments, in partnership with the National Park Service, the Union Pacific Railroad Museum, and the University of Nebraska at Omaha. This year marks the 150th anniversary of the union of Central Pacific and Union Pacific railroad tracks at Promontory Summit, Utah. Union Pacific laid their first mile of track in Omaha, Nebraska and historic Mile "zero" is just across the river in Council Bluffs, Iowa.
This historic anniversary prompted the organizing committee to design a symposium that addresses the significant impact of railroads in Indian Country.
Thursday, September 12 – Union Pacific Railroad Museum
200 Pearl Street, Council Bluffs, Iowa 51503
5:30-7:30 p.m. Symposium Welcome Reception
Registration, Self-Guided Tour of Union Pacific Museum
Join us for the welcome reception hosted at the Union Pacific Railroad Museum.
Opening prayer offered by Dr. Rudi Mitchell (Omaha Nation).
Light appetizers provided in a Three Sisters theme
Friday, September 13 – Milo Bail Student Center
UNO North Campus, 6203 University Dr N, Omaha, NE 68132
11:30-1:30 Welcome Lunch
Registration
1:30 – 2:45 p.m. – The Transcontinental Railroad's Impact on California Indian Identity
Nebraska Room
Chair: Manu Karuka, Barnard College
This roundtable will explore the root causes and motivations for the creation of a false narrative about California Indians, driven in part by railroad corporations. The attempts to make the railroad commercially viable were coupled with real estate speculation in California and the need to give California an identity outside of the "wild west" and "49ers" mythology that was prevalent in east coast literature.
Michael Connelly Miskwish (Campo Kumeyaay Nation), San Diego State University
Theresa Gregor (Lipay Nation of Santa Ysabel), California State University-Long Beach
3:00-4:00 p.m. – Creating an "American" Tourist Experience
Nebraska Room
Chair: Elaine Marie Nelson, University of Nebraska-Omaha
Railroad corporations are active participants in tourist industries across the American West, often deploying powerful imagery and ideas about Indian peoples to promote the region and their rail lines. These panelists will explore how railroad tourism of past and present exploits(ed) Indigenous peoples and cultures and distorts(ed) histories of colonization and dispossession.
"Trails and Rails' in California: Navigating Indigenous, Colonial, and Military Histories On-Board Amtrak's Coast Starlight Line"
Laura Barraclough, Yale University
"The Making of the Glacier Park Indians: American Tourism and Capitalism in the Blackfeet Nation"
Amanda L. Katz, Carnegie Mellon University
4:15-5:15 p.m. – Sustainable Food Systems in the Wake of Railroad Expansion
Nebraska Room
Chair: Taylor Keen (Omaha/Cherokee), Creighton University and Living Red, LLC.
Aboriginal use and occupancy of lands were forever changed by railroads. Panelists will discuss how the establishment of new trade routes and extractive industries brought invasive species and disrupted habitats, which stressed traditional Indigenous food systems.
Adae Romero-Briones (Cochiti/Kiowa), Pueblo of Cochiti
Hillary Renick (Pomo/Paiute), Sherwood Valley Rancheria
5:30-7:30 p.m. – Keynote Address – Manu Karuka, "Empire's Tracks"
Nebraska Room
Saturday, September 14 – Mammel Hall
UNO Scott Campus, 6708 Pine St, Omaha, NE 68106
9:00-11:00 a.m. - Transformation Along the Transcontinental
Auditorium
Chair: Reed Robinson (Sičáŋǧu Lakota), NPS Midwest Tribal Liason
This first transcontinental railroad traversed the forty-second parallel, cutting through Indigenous homelands and forever altering the social, ecological, and economic environments along the route. Together, these panelists offer a diverse set of perspectives—drawing from historical research, family history, and artistic training—to assess the disruptions and legacies of change in this region.
"Native Americans and the Transcontinental Telegraph"
Edmund Russell
Carnegie Mellon University
"Lakota Events During and After the Coming of the Railroad"
Donovin Sprague (Minnicoujou Lakota)
Sheridan College
"Maintaining Our Identity, Beliefs, and Values Since the Arrival of the Ȟemáni"
Paul High Horse (Sičáŋǧu Lakota)
Creighton University
11:30-1:30 Lunch Break
Please take this time to further explore collaborations, conversations, the vendor fair, the Union Pacific Railroad Museum, and the metro area.
1:30-3:30 p.m. - Agents of Colonialism
Auditorium
Chair: Kent Blansett (Cherokee, Creek, Choctaw, Shawnee, and Potawatomi), University of Nebraska at Omaha
Railroad expansion is tied to Indigenous dispossession. These panelists address how corporate and government agents seized Indigenous lands and attacked Indigenous sovereignty in order to construct and operate rail networks. Native Nations dealt with the effects of railroad colonialism by using a variety of strategies.
"Tracks of Dispossession: Legacies of Railroad Allotment in Diné Bikéyah"
Teresa Montoya (Diné), University of Chicago
"The Influence of Railroads on Tribal Lands, Past and Present"
Paul R. Sando, Minnesota State University, Moorhead
"Railroads: Iron Horse Acculturation of Native Nations"
Ben Rhodd (Rosebud Sioux), Tribal Historic Preservation Officer, Rosebud Sioux
"Northward Nation-Building: 'Ontario's Development Road' and the Colonial Expansion of Northern Ontario"
Thomas Blampied, University of Toronto
4:00-6:00 p.m. – Metal Road
Auditorium
Documentary presentation of Metal Road, produced and directed by Sarah Del Seronde
Chair: Desrie Valdez (Navajo), President, Union Pacific's Council of Native American Heritage
This short documentary film enters the world of Navajo families amid history of railroad work through the lens of one workday on the 9001 Heavy Steel Gang.
6:00-7:30 Symposium Dinner
Sunday, September 15 – Mammel Hall
UNO Scott Campus, 6708 Pine St, Omaha, NE 68106
9:00-11:00 a.m. - Iron Horses in Native Nations
Auditorium
Chair: Alessandra Link, Indiana University-Southeast
How did Indigenous individuals and Native Nations negotiate, resist, and/or capitalize on railroad expansion? Panelists discuss how Osages, Cherokees, Lagunas, Meskwakis, and others confronted the construction and operation of rail lines through tribal lands.
"ashkotewi-hi-myewi: The 'Fire Road' and the Meskwaki Nation"
Erik D. Gooding, Minnesota State University, Moorhead
"The Flower of Friendship: The Story of the Railroad and the Laguna Pueblo Colonies"
Thelma Antonio (Laguna), Environmental and Community Planner
"The Infernal Swindle': The Osage Nation, the Leavenworth, Lawrence, and Galveston Railroad and the Failed Sturges Treaty"
Alexandria Gough, Thaden School
"Sophisticated Capitalism: Native American Success Resisting and Regulating Railroads in the Indian Territory"
Robert Voss, Northwest Missouri State University
11:15-12:15 p.m. - Closing Keynote, Gerard Baker
Auditorium
Gerard Baker (Hidatsa) – Closing Keynote
Introduced by Mark Weekly
Discussion and closing prayer by Taylor Keen