The Lincoln Collection Exhibit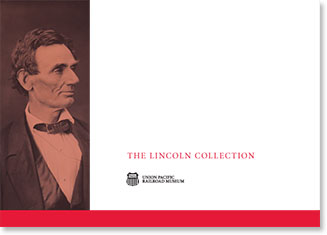 Download the Lincoln Collection Brochure
The Union Pacific Railroad Museum is closely linked with President Abraham Lincoln. The museum was founded following the 1921 discovery of several silver serving pieces from the President's rail car.
Artifacts from his life and his legacy in uniting the United States are at the core of the museum's collection. The Lincoln Collection encompasses artifacts from the 16th president's life and death, including furniture from his rail car, photographs, lithographs, busts, fabrics and medallions. The collection memorializes and celebrates the life of Lincoln, who – upon signing the Pacific Railway Act – became Union Pacific's founding father.
Exhibit Highlights:
View a rocking chair that was in Lincoln's law office in Springfield, Illinois.
See the authentic silver and furniture from President Lincoln's rail car.
Click on an image to view a larger version