The Summit Tunnel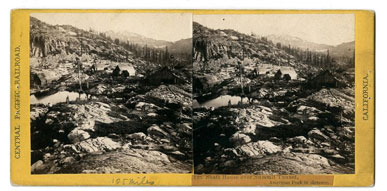 The shaft house at the top of Donner Summit was constructed over the vertical shaft allowing work to proceed on four faces at once in the daunting Summit tunnel. Crews used a stripped down locomotive as power to haul debris from the bottom of the shaft. Stereograph by Alfred Hart, Central Pacific Photographer, c 1867.
In 1865, the Central Pacific Company faced another challenge, a labor shortage. Many of the men they hired to work the railroad stayed only as far as the gold mines and then went their own ways. The Central Pacific figured they needed 5,000 workers to build the railroad, but the most they ever had using only white labor was 800.
They then hired Chinese workers against the wishes of the other laborers and their foreman, but when the first group proved to be efficient and hardworking, the contractor recruited more from California and then from China itself. It was these Chinese men and their back-breaking labor as well as an extensive knowledge of gunpowder that would get the railroad through the challenging Sierra Nevadas.
While Central Pacific constructed 15 tunnels through the Sierra - five on the west slope, one at the summit, and nine on the east slope, the longest, and most challenging, was the Summit Tunnel - 1,659 feet through solid granite. Crews worked on both ends of the tunnel, digging toward each other. Since the Summit Tunnel was at the top of the mountain, crews dug an 8-foot by 12-foot shaft from the top of the mountain to a point at the middle of the tunnel and began digging out toward the tunnel ends.
This permitted work on four tunnel faces at once. A locomotive was even stripped down to its engine and boiler and carted to the top of the summit in order to haul rock from the tunnel faster. The mostly Chinese crews completed the project in a remarkable 16 months - considerably less than the three years projected for its completion, enabling the Central Pacific to pass through the mountains and onto the much flatter topography in Nevada.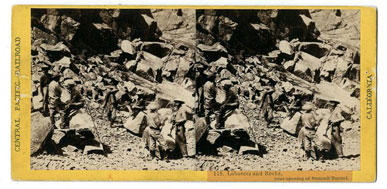 Laborers pictured at one of the entrances to the Summit Tunnel. These crews blasted their way through solid rock, often only advancing inches during their eight-hour shifts. Stereograph by Alfred Hart, Central Pacific Photographer, c 1867.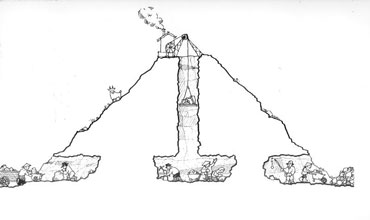 Illustration showing the configuration of work on the Summit Tunnel - four faces simultaneously!