FREE Family Night at the Museum First Friday of Every Month
December 13, 2018
Create, Learn, and Play!
Join us the first Friday of every month for a broad range of fun activities featuring many of the amazing organizations in Council Bluffs and Omaha.
March 1st will be Earth Night! Spring is right around the corner so we'll be exploring nature and how to care for our environment. Find more details on facebook.
NEW TIME: Family Night are now open later! Join us from 5:30-8:00pm
Family night is always free and open to all.
What's Next?
April 5: Tangier Shrine's Circus Nights
May 3: Transcontinental Railroad 150th Anniversary
June 7: Celebrate Summer!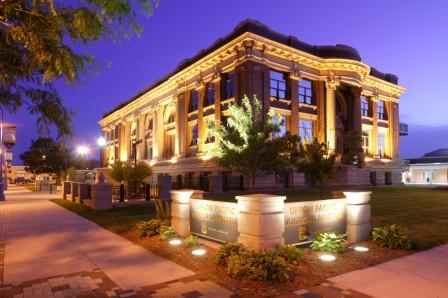 Union Pacific Railroad Museum Welcomes Speaker Walter Echo-Hawk, Author of Sea of Grass: A Family Tale from the American Heartland, Saturday Dec. 1
November 6, 2018
Union Pacific Railroad Museum and Union Pacific's Council of Native American Heritage (CONAH) employee resource group will celebrate National Native American History Month with a free presentation by Walter Echo-Hawk on December 1, 2018, at 1:00 p.m. at the Union Pacific Museum.
Echo-Hawk (Pawnee) is a Native American speaker, author and attorney who works diligently to protect the legal, political, property, cultural and human rights of Native peoples all over the world. He will discuss and read from his new book, Sea of Grass: A Family Tale from the American Heartland. Inspired by real people and events, The Sea of Grass is the story of the Pawnee Nation and ten generations of one Pawnee family. Seen through Pawnee eyes, a unique history comes alive--one shaped by the land, animals, and plants of Nebraska and by the long sweep of human life in the greatest grassland on earth.
"Pawnee warriors fought alongside the U.S. Army from 1864-1877," said Patricia La Bounty, museum curator. "During the construction of the railroad, the U.S. Army was committed to protecting Union Pacific railroad crews, and the Pawnee were instrumental in that effort. We are extremely excited to welcome Walter Echo Hawk to the museum and to hear more about his unique perspective on these intertwined histories and his family's journey."
Echo-Hawk's presentation will be offered only on Saturday, December 1. It is free and open to the public; no reservations are required. The discussion will begin at 1 p.m. The museum is located at 200 Pearl St, Council Bluffs, Iowa, and is open from 10 a.m. to 4 p.m., Thursday through Saturday. Admission is always free. Please visit www.uprrmuseum.orgor call 712-329-8307 for more information. You can learn more about Walter Echo Hawk at his website www.walterechohawk.com.
About Union Pacific's Council of Native American Heritage (CONAH)
The mission of CONAH is to aid in the recruitment, retention and advancement of Union Pacific employees of Native American Heritage. CONAH accomplishes this by: promoting and facilitating the personal and professional growth of these employees; working with Union Pacific Senior Leadership to develop awareness of diversity issues; and identifying and taking advantage of opportunities to build bridges to the Native American community. The group's membership is comprised of employees representing 16 native tribes including the Apache, Cherokee, Chickasaw, Choctaw, and Navajo.
Winterfest at Bayliss Park!
October 30, 2018
This year we've joined forces with The 712 Initiative, the City of Council Bluffs, and Pottawattamie Arts / Culture / Entertainment to bring you a bigger and better Winterfest! Special thanks to our sponsor TS Bank!
Join us on November 15th for Winterfest at Bayliss Park! Festivities will include all of your favorites:
❄️ Lighting Ceremony
❄️ Santa
❄️ Reindeer
❄️ Festive Photo Opps
❄️ Face Painting
❄️ Balloons
☕️ Hot Cocoa
Plus a lineup of new festivities including:
❄️ Food Trucks (details coming soon)
❄️ Maker's Market (vendor list coming soon)
⛄️ Outdoor Movie: Frosty the Snowman
❄️ Art Activity
❄️ Carolers
☕️ Even More Hot Cocoa
Join us for the moment the park transforms into wonderland, and stay awhile to enjoy several family-friendly activities. Check out the facebook event for updates!
This event is free and open to the community